Eric Church threw a little somethin' special in the mail for his most loyal fans...
Eric Church went super old school and mailed his latest record to thousands of his Church Choir fan club members earlier this week. (The albums started showing up on Tuesday… check your mailbox.)
The Chief's brand new Mr. Misunderstood album was truly unexpected— even many at his own label were in the dark about the release. Church's fifth studio album was recorded in East Nashville alongside the popular singer-songwriter's stellar road band and trusted longtime producer Jay Joyce.
Much to the delight of fans, Eric Church debuted the title track during Wednesday night's CMA Awards broadcast and dropped the entire album to the public at the same time. Enjoy the live performance footage below!
Yes, you totally heard the "Mr. Misunderstood" lyrics right. Church outright names Elvis Costello, Ray Wylie Hubbard, and Jeff Tweedy, while simultaneously giving a huge nod to Wilco's "Misunderstood."
Prior to that little musical treat, Church and Hank Williams Jr. opened up the awards show broadcast by belting out the music icon's "Are You Ready for the Country," which is the first single off Williams' upcoming album It's About Time. Check out all that outlaw swagger…
The edgy 38-year-old country star also penned the following handwritten note to his fanbase giving them deeper insight into his creative process.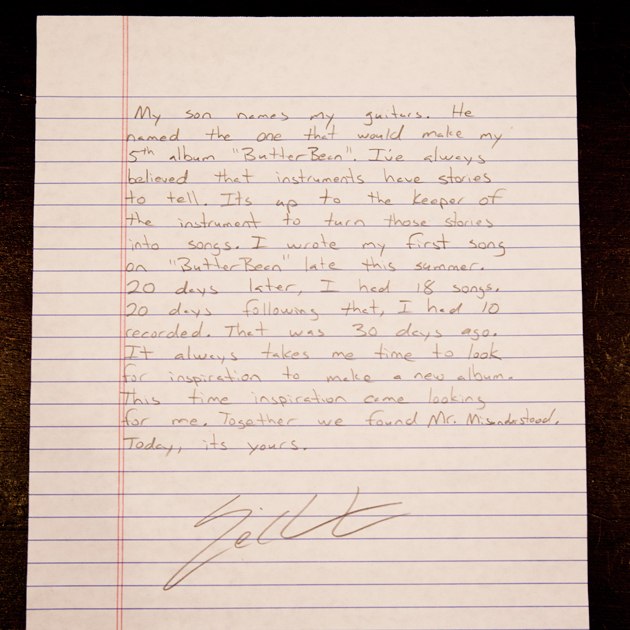 Mr. Misunderstood Track Listing
1. "Mr. Misunderstood" (Eric Church, Casey Beathard)
2. "Mistress Named Music" (Eric Church, Casey Beathard)
3. "Chattanooga Lucy" (Eric Church, Jeff Hyde, & Ryan Tyndell)
4. "Mixed Drinks About Feelings" ft. Susan Tedeschi (Eric Church)
5. "Knives of New Orleans" (Eric Church, Jeremy Spillman, & Travis Meadows)
6. "Round Here Buzz" (Eric Church, Jeff Hyde, Luke Dick)
7. "Kill a Word" (Eric Church, Jeff Hyde, Luke Dick)
8. "Holdin' My Own" (Eric Church)
9. "Record Year" (Eric Church, Jeff Hyde)
10. "Three Year Old" (Eric Church, Casey Beathard, & Monty Criswell)
Besides slaying his live CMA Awards performances, the North Carolina native and Keith Urban clinched the coveted Musical Event of the Year distinction for their smash hit "Raise 'Em Up." Congrats to the dynamic duo!
We're completely smitten with Eric Church's sound and are a thrilled with this week's musical windfall. Check out more Eric Church music and updates here.
[bandsintown_events artist="Eric Church" display_limit="10″]